St. Peters Street
The triangular Market Place extended into the wide St. Peters Street, described in 1245 as the "great street" (magno vico) which goes to the church of St. Peter. To the north of the churchyard the street was known as Bowgate. Below Newlane the properties on the eastern side of the street generally stretched originally, back to the defense of earthen bank and ditch known as Tonman Ditch or Monk Ditch, but in the later Middle Ages those at the north of this frontage stretched to the Manor of Newlane (situated in Newlane). On the western side of the street the properties immediately above the Market place backed onto the northern side of Dagnall street; further north they stretched originally to Tonman Ditch on the western boundary of the town.
The situation above the Catherine Lane/Newlane cross roads is less certain. Some properties, on both sides of the street, stretched back to the 1327 boundary line, although this does not seem to have been defined by a ditch. There were properties in Newlane by the fifteenth century which will have effected things on the east but I am not sure what the situation was in respect to Catherine Lane. In the early years of the sixteenth century Nicholas Geffrey provided for the repair of the " cawsey in St. Peters Streate " in other words for a paved or surfaced footpath.
Like other street the limits of this street seem to have varied. Some properties described as being in St. peters street being in the present Chequer Street.
In 1444/5 the tenement known as "le Fyshh" was being repaired and other named tenements are "le Wolsack" (1446), "le Castell" and "Le Lambe" (1473). "Bromleys" (1496/7) and the "Leyden Porch" (1496/7). The Castle stood on the northern corner with Shropshire Lane and it was here that the Duke of Somerset died during the First Battle of St. Albans in 1455.
This street has seen much redevelopment and today few medieval buildings survive.
click for information on the church
In the south west comer of the churchyard, its position still marked by some ancient masonry in the base of the churchyard wall, was the chapel of the guild known as the Fraternity of All Saints. This was also known as the Charnel Brotherhood and its chapel as the Charnel Chapel because of its position in the church yard.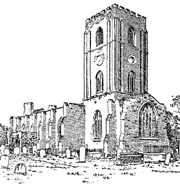 St. Peters Church before the 1893 restoration